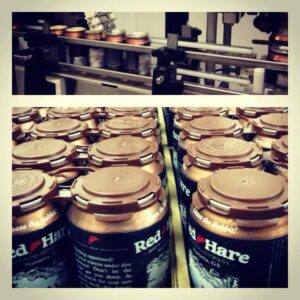 We're always looking for good spots that are cigar "friendly". Unfortunately, when things heat up during the spring and summer, we often forget about the rules regarding where you can bring a cold beer to enjoy with your cigar. Whether it's the pool, the river, the lake, or the beach, there seems to be a common theme of "no glass allowed". A few years ago, this might translate to just a handful of canned beer options for you to pack into the cooler.
The good news is that canned beer typically remains fresher for a longer, travels well, and can be disposed of easily. While controversy surrounds Anheuser Busch about watering down their beer, craft breweries have been producing more high quality canned beers. Here are a few canned beers that you can find around Woodstock, Georgia.
5 Canned Beers to Try
Watership Brown Ale by Red Hare Brewing Co – This hopped up American Brown Ale is brewed and canned in Marietta, Georgia. It comes in at 7.2% ABV with a nice blend of hops and sweetness.
Dale's Pale Ale by Oskar Blues Brewery – This pale ale weighs in at 6.5% ABV and is highly regarded as trailblazer of canned beer in the craft beer world.
Summer Ale by Brooklyn Brewery – Brooklyn Brewery knew exactly how important a good can and summer inspired ale go hand in hand. It looks as if they planned for you to take this beer out onto the water, so why don't you give it a shot this summer when you're by the lake?
White Rascal by Avery Brewing Co – This white beer (Witbier) is extremely refreshing and perfect for relaxing by the ocean. It has a nice citrus and spice flavor that you would come to expect from similar white beers.
Pabst Blue Ribbon by Pabst Brewing Co – Sometimes you just need a cheap, light, and refreshing beer. PBR's made popular the term "Tall Boys", which refer to their 24oz cans (which are available in 6-packs) for next to nothing. This American Adjunct Lager is one of the more flavorful, and highest rated in the category.
Whether you hit the golf course, float down the river, or crisp on the beach, try grabbing a can of beer to enjoy with your cigar.
Wherever you go to enjoy your cigar this spring and summer, make sure you share a picture with your cigars from Mr. G's on our Facebook page. Let us know what you're smoking!