It's the best time of the year to give your loved ones some presents and your dad should be on top of the list. So here's a list of cigar gifts for dad that he will definitely love.
Cigar lovers take the time to savor every moment they spend smoking. It has become a habit for them to reflect on life as they smoke. So to give them the best cigar smoking experience, we came up with different ideas on how to help them achieve that.
So don't waste the time wondering what to give a cigar lover this holiday season and start reading below.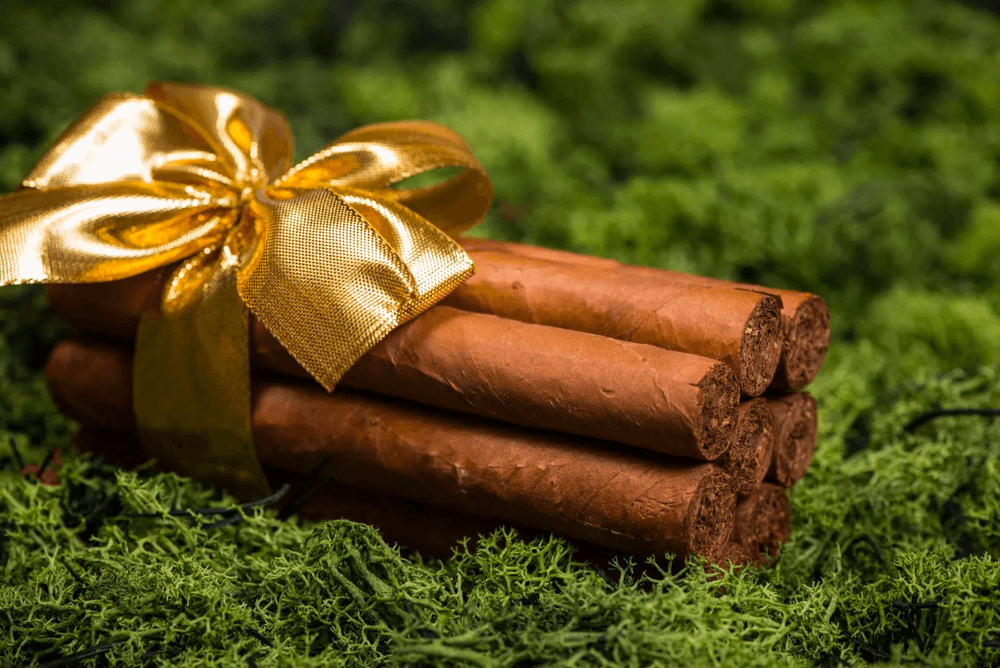 Cigar Gifts for Dad: Ideas on What to Give
We have meticulously selected these gift ideas to make anyone's cigar smoking experience more perfect. So find your next favorite from the list below.
Ashtray Set
An ashtray is what holds the tobacco ash. And what's better than an ashtray that can hold your cigar is the one that can also be a whiskey glass. A two-in-one ashtray set is what we are referring to.
When giving gifts to someone, one thing to consider is if they can be used for a long time. This ashtray set is not only durable but also makes cigar smoking very convenient. The fact that there is no need to carry around an ashtray and a glass separately, this comes very handy.
Cigars are also best when paired with a glass of whiskey. It adds class to the experience of enjoying a favorite brand of cigar. And getting your dad this kind of ashtray will surely make his companions jealous.
Mr. G's Cigar believes that a cigar is a perfect gift for any occasion. So we understand how important it is to find the best cigar gifts for dad.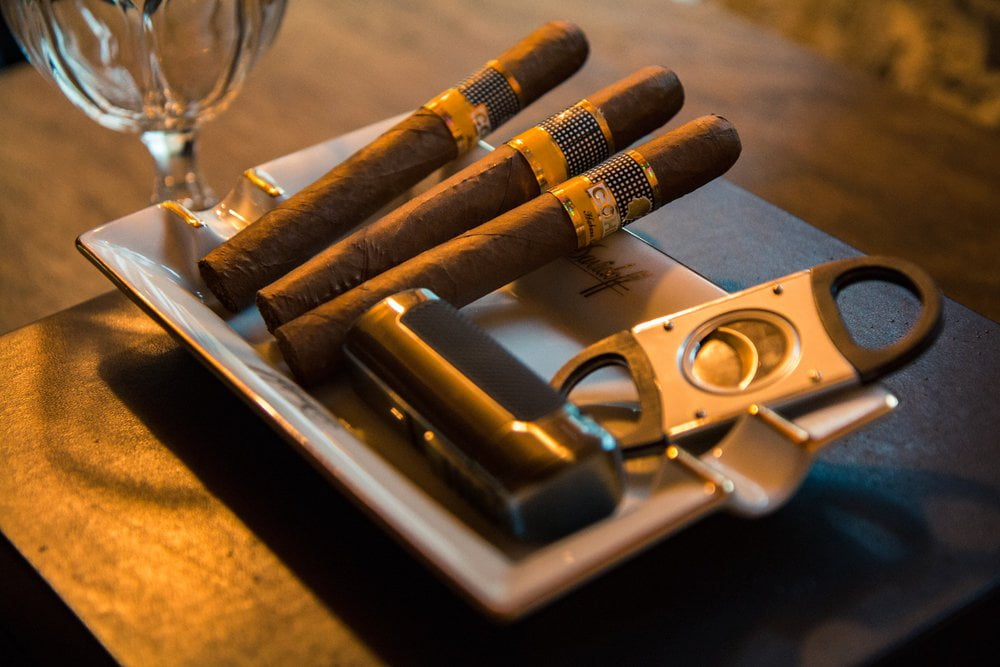 Nothing beats enjoying a cigar with friends over the best brand of whisky. And using a decanter is the best way to present it to your guests. It makes such free time more pleasurable.
A decanter is a vessel that is usually made of glass. It is where you transfer your wine or whiskey to pour into individual glasses. You can have your dad's name printed on it to have a personal touch on your gift.
And of course, the experience will not be complete without matching glasses. Just like a good quality whiskey perfectly pairs with the best cigar brand, a decanter will not be complete without its glasses. The matching glasses are actually what compliments a decanter.
A decanter is always a good idea as holiday cigar gifts for dad. Whether your dad wants to savor his whisky and cigar alone or with a company, having a decanter will definitely enhance his experience. It makes cigar smoking more manly.
Humidor (The Cigar Gifts for Dad You Should Definitely Get)
Every cigar lover should own a humidor. A humidor is used to store cigars and pipe tobaccos. And what's best about this storage box is you can control the humidity inside.
It has been said that tobacco leaves naturally react to the humidity around them. And it's a nightmare for cigar lovers to discover that their cigars have expanded or contracted. To avoid this, a good-quality humidor is an answer.
Making sure that cigars stay in their best state is just as important as choosing the right brand that suits one's taste. And having it customized will make it stand out from the rest of the humidors sold in stores.
Have your dad's name engraved on it and it will definitely be one of the best cigar gifts for dad.
Cigar Box
While a humidor is a great storage solution to keep cigars in good condition at home, a cigar box is perfect for those who are on the go.
If your dad likes to visit lounges to enjoy his cigars with friends, then there is no doubt that this gift idea is the one that you've been looking for. It makes keeping the cigars easy and more organized even when traveling or when he decides to go out with friends.
Again, you can have your dad's favorite quote engraved on the cover. When giving gifts, especially for the holidays, it is best to remember that it's the thought and not the prize that matters.
Personalized Shadow Box
Make your Christmas present to your dad this year more personal. And a shadow box with your dad's name on it is one great option.
A shadow box is an enclosed display case that is covered with glass in front so the objects inside can be easily seen. For a cigar lover, this can be used to display the bands of their favorite cigar brand. Instead of just taking it off and throwing it away, why not put it on display?
They can showcase the different brands that they have tried over the years. It will also be more appealing to the eyes with the different colors of the bands. And it makes the cigar smoking experience more enjoyable.
Indeed a perfect idea if you are looking for more personal cigar gifts for dad. It's a great way to appreciate their love for cigars.
Cigar Gifts for Dad: Where to Buy
Smoking cigars is the best way to slow down and enjoy the holiday season despite how busy people get during this time. If you know someone who loves cigars so much, you know that even the aroma of a certain brand brings so many memories for them. So enhance their hobby with the best cigar accessories.
With a wide variety of cigar brands and accessories, your dad will surely love smoking cigars even more. And Mr. G's Cigar will take that experience to the next level. Check out our cigar accessories and gift selections before they run out. But don't worry, we always got plenty of stocks for every cigar aficionado out there. We also keep adding new products from time to time.
Make the holiday season more special with the cigar gifts for dad ideas that you can get from our shop. Just send us a message and we will be happy to make your dad's cigar smoking experience more unforgettable.